ENGLEWOOD — A South Side collective is teaming up to bring two restaurants and a test kitchen to Englewood in 2023, ushering in a diverse business ecosystem.
E.G. Woode – a group of architects, designers and entrepreneurs – will open the EG Woode Food Hub in the fall of 2023. They want it to be a culinary hotspot with sit-down restaurants, a pop-up kitchen and offices. It's the second part of a three-phase plan that aims to open eyes and businesses in Englewood.
The $5.3 million hub at 1022 W. 63rd St. will house restaurants Skip the peasa casual soul food restaurant and Ellie's Urban Grilla sports and entertainment restaurant with wings, salmon croquettes and fried food.
EG Woode's Kitchen will provide space for restaurateurs to operate a pop-up restaurant and share a range of cuisines with the community for 30 days before committing to a physical business.
If the restaurant is successful, the owner can continue to partner with the collective to "launch a full-scale strategy and open its doors," said Deon Lucas, architect and executive at EG Woode.
Englewood has few casual restaurants where neighbors can sit down, order and have their food delivered, Lucas said.
If neighbors want to catch a sports game and grab a bite to eat, they have to leave the community, Lucas said. When they want to have lunch with a business partner or dinner with the family, they have to drive to Hyde Park or Bronzeville, a "frustrating" undertaking, Lucas said.
The EG Woode Food Hub will bring a unique experience to people who "want to stay in their own backyard," Lucas said.
"We want to use these three businesses in this facility as a way to increase the number of active casual restaurants on 63rd Street and throughout Englewood," Lucas said. "We hope this will show and demonstrate that there is a need and a desire for people to have these spaces in Englewood, and it will encourage other restaurateurs who might not even want to be part of EG Woode to decide to settle here. "
The collective recently received $1.1 million Rebuild Illinois Downtowns and Main Streets Capital Program Grant to finance the food hub. Nearly $4 million in tax financing approved by the Community Development Commission this month pushed the project to its $5.3 million total. The hub is "fully funded on paper," Lucas said.
The funds will cover "material and incidental costs," including building construction, furniture, decor, fixtures and equipment, Lucas said.
Restaurant owners will move into the building and be able to work "day one" without needing to buy anything else, Lucas said.
"With this kind of resource from city and state, we can exponentially flow it back to the next generation of entrepreneurs, and they can benefit greatly from the reduced debt burden," Lucas said. "I am joyful, grateful and lucky to be in this position. But we still have a lot of work to do."
Much of this work will be spent revamping the 10,000 square foot building to create the vision that Lucas sketched out on paper over seven years ago.
Rather than building a building from scratch, EG Woode believes in taking a property that neighbors "saw at its ugliest" and restoring it to impress the community, Lucas said.
The South Side Collective accomplished that feat in August when it opened its mall with four business owners of color at 1122 W. 63rd St. They will do it again with their food center, Lucas said.
"There's a certain appeal to restoring what's old into something that can look and feel new," Lucas said. "Everyone wants to see it and experience it. We want to do something different. »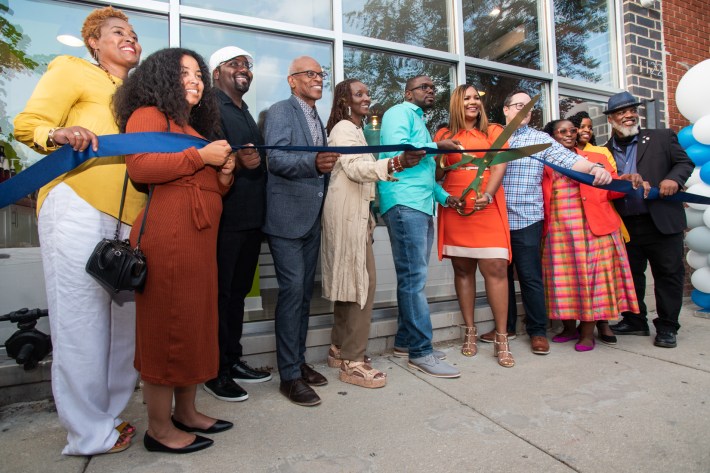 The food center is the second step in a three-part plan to create a thriving ecosystem of indoor and outdoor activities in the community, Lucas said.
The aim is to encourage people who walk or drive through Englewood to see its success and want to be a part of it, because that's how communities thrive, Lucas said.
"We seek respect as a community to know that we have the assets and amenities that other communities already have, and we don't have to fight for them anymore," Lucas said. "I look forward to the day when Englewood is no longer a talking point because there is no shortage of it."
Listen to "It's Alright: A Block Club Chicago Podcast":