Contributor Stephanie Burt has shelves of community cookbooks, as well as spiraling snapshots of church groups, Junior League chapters, and other social organizations. They hold the story in every row and, with the right adjustments in the kitchen, can still give us some direction for dinner today.
Bisquick is an ingredient that divides. Developed in 1930 by a General Mills executive who persuaded a black chef to part with his cookie-to-order secret, the premixed pancake and baking mix, later sold under the Betty Crocker label, offered time-savers to cooks tired of the Depression era.
Remember, this was the time when the "laundry day" in the half of American households who were not yet electrified it can really take up to eight hours and appliances such as the microwave did not exist. If I had lived and cooked during this time, I would have cut every corner possible.
While making cookies and pancakes requires few ingredients, a can of Bisquick is more economical than buying fat, flour, and sourdough individually.
Yet Bisquick is more than just a quick baking mix. As Alia Akkam wrote for Taste online magazine in 2017, the dishes he spawned were "sometimes wacky, always hearty (and) epitomized an American suburb fueled by convenience."
In other words, serious self-proclaimed cooks have found reasons to poke fun at Bisquick. But in community cookbooks from the 1970s and 1980s, Bisquick recipes abound.
The following recipe from a 1982 cookbook published by Charleston Heights Baptist Church appears to be a logical adaptation of Betty Crocker's Impossible Cheeseburger Pie, which is one of a series of "Impossible Pie" recipes the company has started. to print on the back of Bisquick boxes from 1970.
Although the original recipe only called for two eggs, recipe contributor Willie Mae Jones upped the cream by adding a third egg. However, its real genius came with the addition of sliced ​​fresh tomato garnish under the cheese.
When I tested the recipe, I was concerned that the very thin dough would spill out of a shallow pie pan, so I opted for a deeper pan which resulted in a slightly longer initial baking time.
Then I found out that the beef needed a bit more flavor than salt and pepper. I used grass-fed beef, which was not specified in the cookbook, and added Lillie's of Charleston Ho-Lotta Spice Rub with great success.
And finally, I wanted to showcase this triumph of the topping, so a slide under the grill ensured the cheese got crispy and bubbly, not soggy in tomato juice.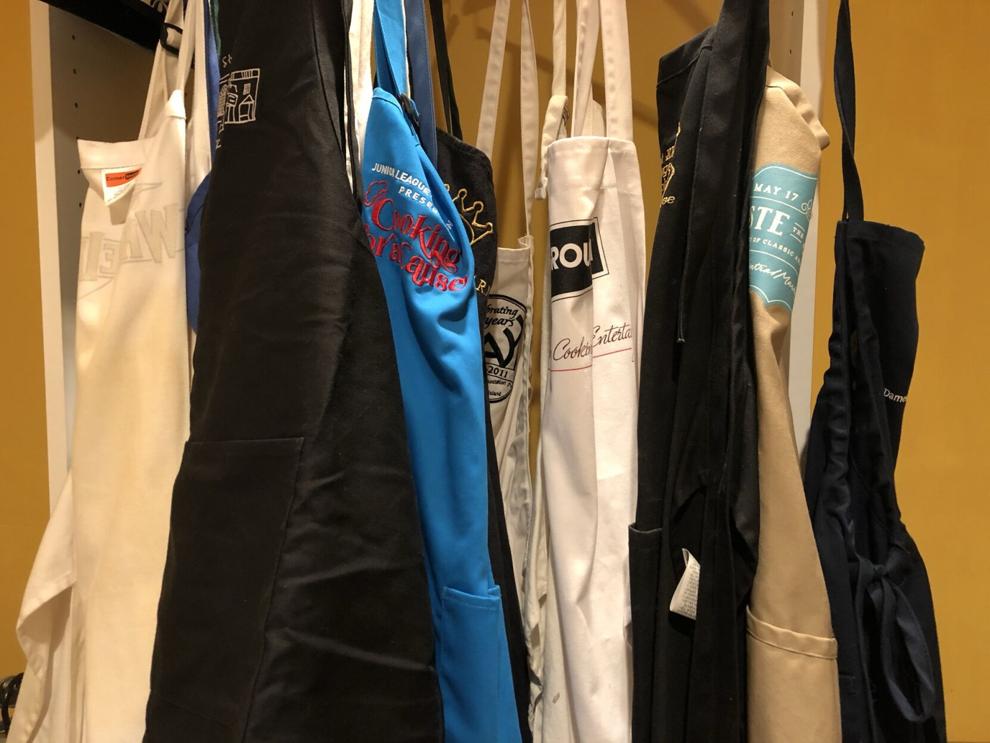 As for Bisquick, I stuck with the original, although "the original" now contains genetically modified ingredients, according to a legally binding bold line on the box. I only use it a few times a year to make sausage balls for an appetizer (another cheese, bisquick, and meat combo), and since there hasn't been a party lately, I had kept the box in my freezer.
Now I was ready to have some space instead. Having an ingredient already on hand is convenience at its best. Enjoy.
"Recipe Sharing," compiled by the Golden Fellowship Club at Charleston Heights Baptist Church, Charleston, SC. 1982
Willie Mae's Cheeseburger Pie
Contribution by Willie Mae Jones
Ingredients
1 pound of ground beef
1 ½ cup chopped onions
½ teaspoon of salt
¼ teaspoon of pepper
1 ½ cup of milk (regular)
¾ cup of Bisquick
3 eggs
2 tomatoes, sliced ​​(fresh)
1 cup grated sharp cheese
Directions
Heat the oven to 400 degrees Fahrenheit. Grease a 10 x 1 ½ inch pie plate. Brown the beef and onions, drain the fat. Stir in salt and pepper. Spread on a pie plate. Beat milk, eggs and Bisquick in high speed mixer for 15 seconds and pour into pie plate.
Bake for 25 minutes. Remove from oven and top with tomatoes and cheese. Return to the oven for about 8 minutes.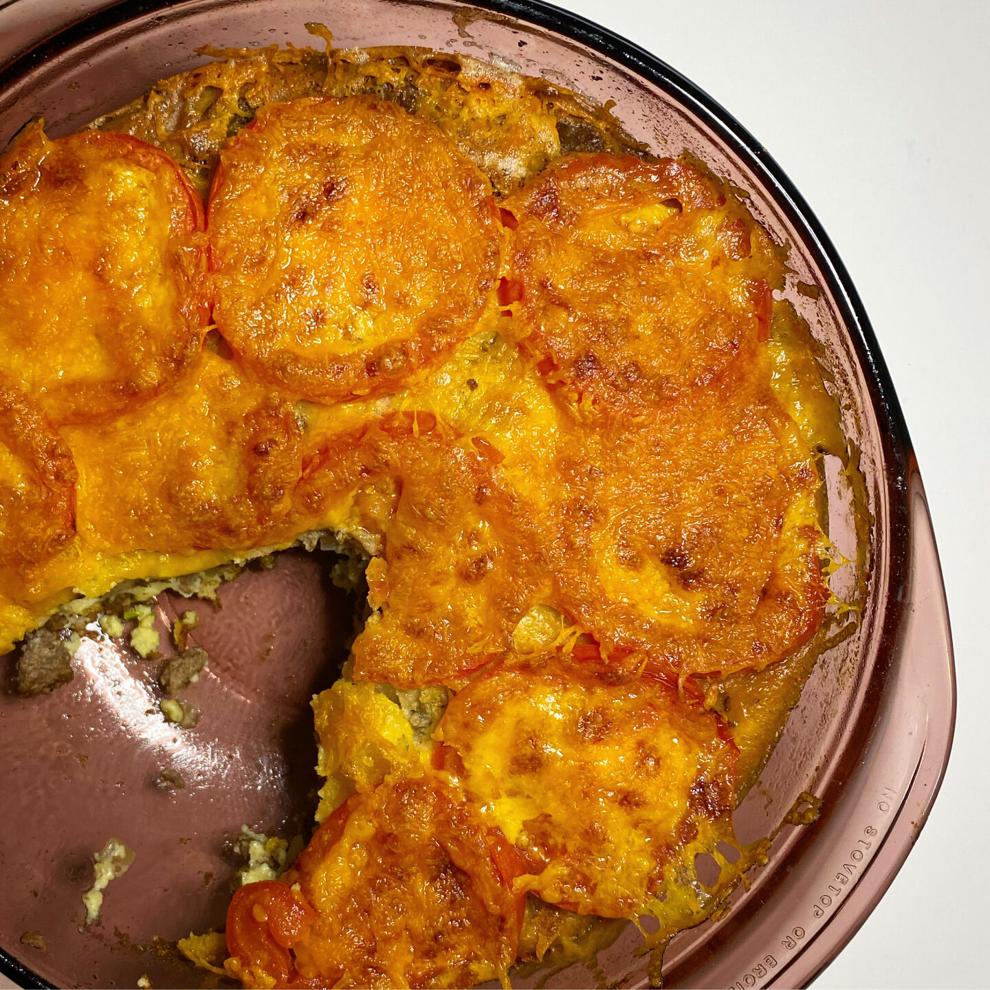 Vintage Kitchen Cheeseburger Pie
Adapted by Stéphanie Burt
Ingredients
1 pound grass-fed ground beef, 85/15 mix
1 ½ cup chopped onions
1 teaspoon of Lillie's of Charleston Ho-Lotta or Hissy Fit Spice Rub (spicy)
1 ½ cup whole milk
¾ cup of Bisquick
3 eggs
2 tomatoes, sliced ​​(fresh)
1 cup grated sharp cheddar cheese
directions
Heat the oven to 400 degrees Fahrenheit
Spray a nonstick coating on a deep pie pan or shallow square pan and set aside.
In a skillet, brown the beef and onions over medium heat, then drain any fat. Remove from fire; stir in spice blend, then spread beef mixture on bottom of pie dish.
Combine the milk, eggs, and Bisquick in a high speed blender for 15-20 seconds (don't worry if the batter looks very thin), then pour it over the beef mixture. Bake the pie for 30 minutes.
Remove the pie from the oven and top with the tomatoes and cheese. Return to oven and broil for an additional 5 to 8 minutes or until cheese is brown and bubbly on top.
Reach Hanna raskin at 843-937-5560 and follow her on Twitter @hannaraskin.
Source link